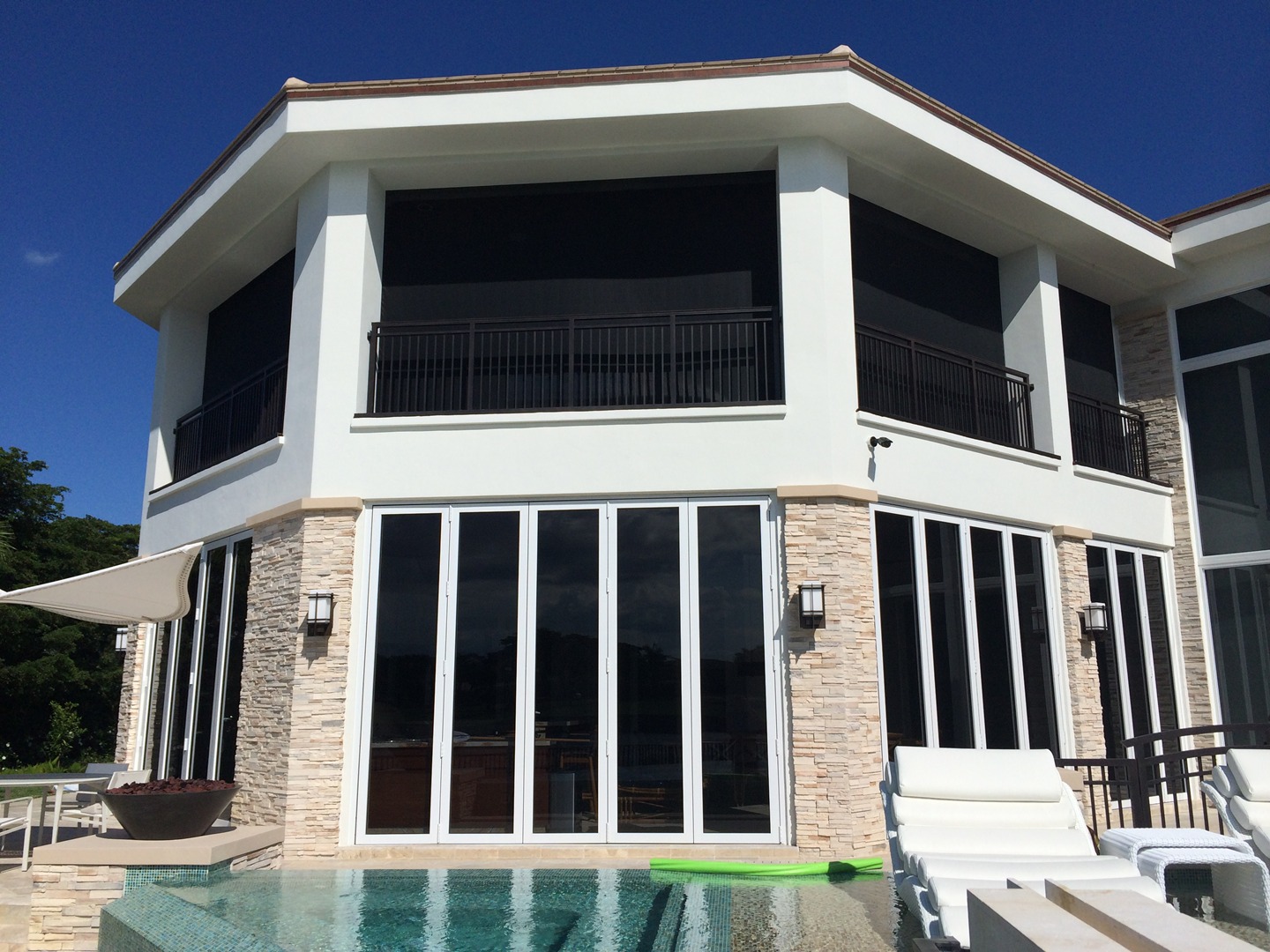 Roll Down Hurricane Fabric Screen
Atlas Armor is a wholesale manufacturer of the Atlas Armor Hurricane Screens (the ONLY hurricane rated screen that fits ALL of your comfort needs). the Atlas Armor Hurricane Screens  is a push button activated, outdoor roll down screen that has been developed using Twitechell's OmegaTEx fabric. Several other companies offer the non-Miami-Dade certified version of the Atlas Armor Hurricane Screens.
ATLAS ARMOR is the ONLY manufacturer authorized by Miami Dade to label (NOA 17-0426.11) the Atlas Armor Hurricane Screens  as a certified roll down HURRICANE SCREEN. Product has been proven to be highly effective hurricane protection in the High Velocity Hurricane Zone (HVHZ) consisting of Florida's Miami-Dade and Broward counties.
Unlike other hurricane protection products, this is not a single purpose fabric screen that can only be used during a hurricane. Push a button and the Atlas Armor Hurricane Screens  can be raised or lowered to provide a wide variety of EVERYDAY (365 days per year) types of protection and comfort. Be creative. Incorporate the Atlas Armor Hurricane Screens  when you are remodeling your home, building a deck or patio in your back yard, or when you are adding hurricane protection to your existing home. For example: new homes or remodeled homes can be constructed with these screens completely concealed in the walls and columns. The Atlas Armor Hurricane Screens  can be controlled by using a hand held controller or it can easily be added to your home automation system. We offer several brands of motors including Somfy.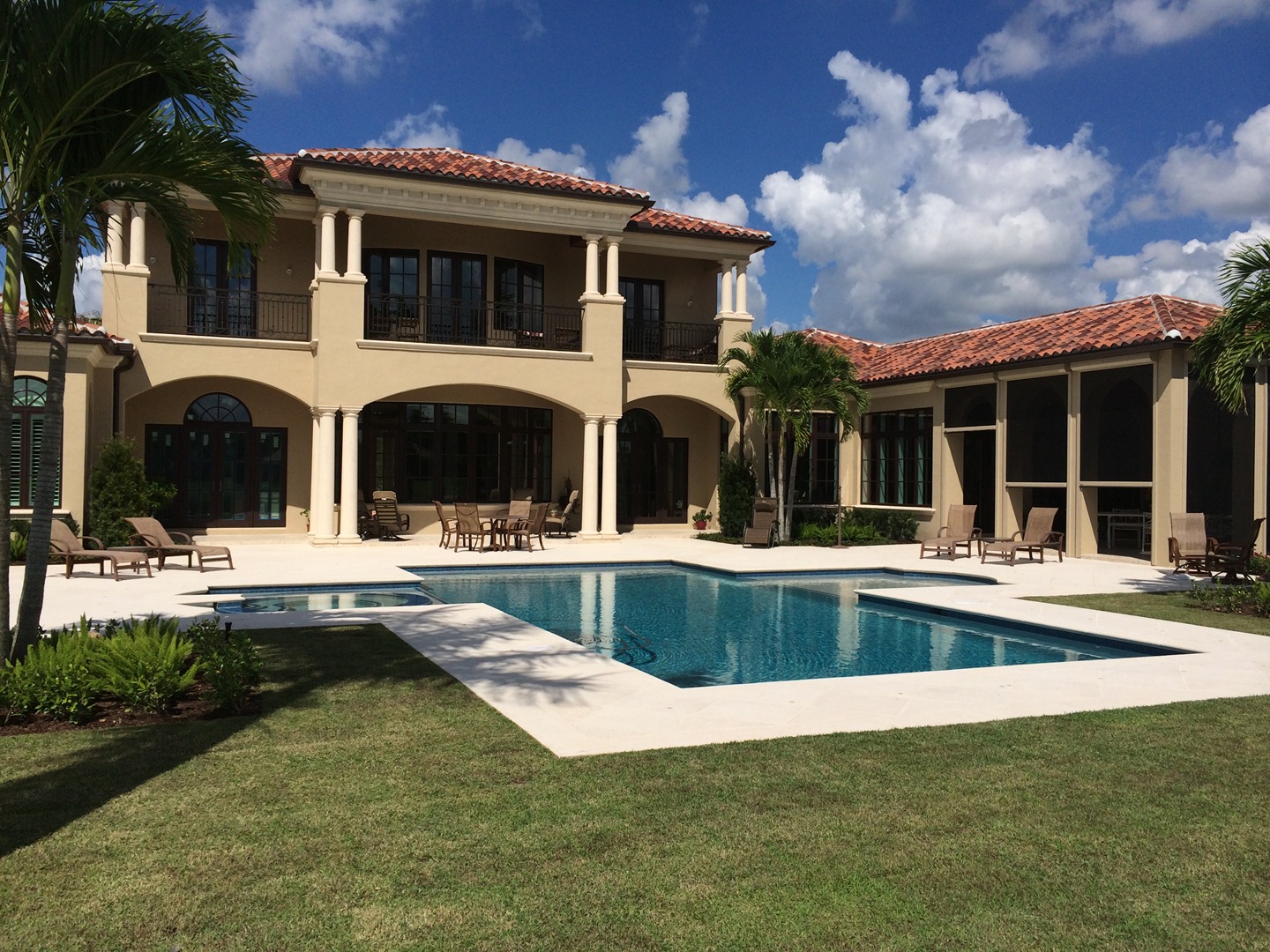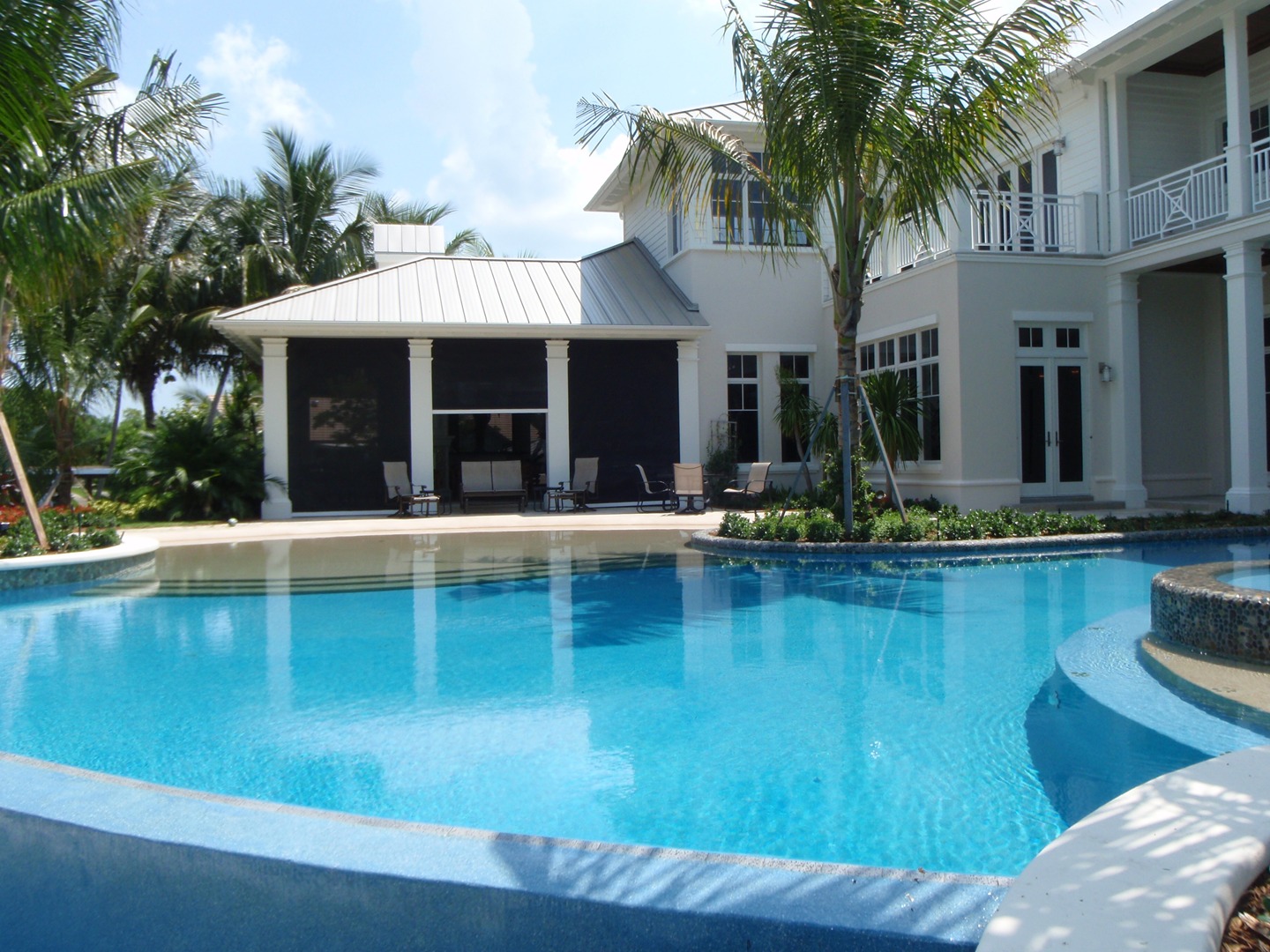 The Atlas Armor Hurricane Screens  will reduce your electric bills because it's also an effective SOLAR SCREEN.
The Atlas Armor Hurricane Screens  also makes your enclosed area more enjoyable and comfortable by controlling the sun's heat and everyday weather (wind and rain). The Atlas Armor Hurricane Screens  allows heat to escape, light breezes and glare reduced sun light to enter while not inhibiting your view. All at the push of a button.
It will also protect you against disease carrying flying insects such as mosquitoes and no-seeums because its also an INSECT SCREEN.
METAL COLORS
You have several color options to choose from. The metal comes in four colors (White, Ivory, Beige and Bronze). We can also custom powder coat in any color.

FABRIC COLORS
The screens come in three colors (Black, Black and Tan, White and Tan and Beige).
Black is the easiest to see through (it almost disappears) because the surrounding light is not reflected back to your eye. All colors offer a degree of privacy during the daytime.

USE IT EVE​RY DAY FOR COMFORT - WE WARRANTY IT
Unlike other fabric screens, Atlas Armor hurricanescreens don't have to hide from the sun, they can be fully exposed to the harmful effects of the sun's UV rays without any damaging effects. In fact we warranty it. We will replace your fabric screens if it ever becomes damaged by the sun's UV rays, atmospheric chemicals, rot , mold or mildew. You can quickly judge a product's components by looking at its warranty. We have a full fabric screen replacement warranty not one that is pro-rated based upon how long ago you bought it​.
MULTI-USE - EVERY DAY PROTECTION FROM ONE  SCREEN
Why pay more to have one product for hurricane protection and another for solar protection and another for insect protection? Think of our Atlas Armor hurricane screens as the "Swiss Army Knife" of the screening world because one screen provides all of your protection and comfort needs in ONE screen. Our Atlas Armor hurricane screen also protects against: solar heat, harmful solar UV rays, flying insects including no-seeums, and everyday wind and rain. Our transparent fabric screens also allow you to enjoy your view and they let in light and those comfortable light breezes.
HIGH QUALITY IN EVERY WAY
Because Atlas Armor ​hurricane screens are warranted for 10 years, BUILD TO BE USED. Atlas Armour uses the best materials and components that are currently available. All metals are powder coated, our motors are warranted for 4 or 5 years (based upon the type of motor). We offer all stainless steel components for our coastal customers. Our screens are mainly made of heavy extruded aluminum, stainless steel and polyester/Aramid fabric. Aramid is also used in the trademarked product named Kevlar.
HEAVY DUTY ENGINEERING
Our tracks, motors, idles and reels are designed for an extended lifetime of heavy usage. Atlas Armor hurricane screens are a blend of Aramid (used to build race cars, airplanes and military bullet proof vests) and Polyester which is much stronger than the other typical screen fabrics made of Polypropylene (used for water ski ropes) or Polyurethane (used for trampolines'). Atlas Armor hurricane screens are not effected by the sun's UV rays like the other screens that dry out, shrink and turn brittle.
VERY, VERY COST EF​FECTIVE
Because Atlas Armor hurricane screens can be used every day instead of just once a year or once in several years, the cost of our screens divided by the actual usage days makes ownership just a few pennies per day. PLUS, you also get the daily comfort benefits as well. For example, take a $1,000 product and divided it by the number of days that you use it. If you use it once every 2 years, it would cost you $1,000 for that 2 year time frame. In the case of Atlas Armor hurricane screens​, you would be using it everyday for those 2 years so it would cost you $1.40 per usage. Now, divide your cost of our screen by remaining number of days of your lifetime to get the actual daily cost of our screen. Pennies. Now add in the fact that you will need to replace (buy again) the other screens when they get damaged. See our warranty.
OUR FABRIC SCREENS ARE MADE OUT OF OMEGATEX WHICH IS A
GREEN

PRODUCT AND QUALIFIES FOR US FEDERAL TAX CREDITS

The same fabric screening material that is used in our Atlas Armor hurricane roll down screens can also be attached as either a removable panel or a permanent fixed screen. When it's permanently covering your opening, it qualifies for federal tax credits. Sorry, the roll down screens (because they are not always covering the opening) do not qualify for the tax credit. You will, however, continue to save on your cooling energy bills whenever our fabric screens are being used.
ATLAS ARMOR HURRICANE SCREENS ARE VERY VERSATILE
If you are designing a deck or a patio consider using our screens to reduce the heat effects of the west sun and to block the wind. If you like spending time in your back yard, but you don't like mosquitoes or no-seeums, you will love our screens. If you enjoy being outdoors, but would also like a little privacy while keeping your view or you just want to watch the sun set without getting blinded, our screens are your answer. If you like to entertain on your enclosed patio without fear on high winds or rain ruining your party, we are your answer. And, when you don't need our screen, just push a button and we will disappear until we are again needed. We are very versatile.