The StoreSafe product line offers premium protection, while still maintaining product visibility. StoreSafe shutters create a powerful security barrier to protect your valuable inventory. After installing StoreSafe shutters, retailers have reported up to a 93% decrease in attempted burglaries. Some StoreSafe security shutters are also hurricane-approved. There are several StoreSafe shutter styles to fit your security budget and visibility preferences. StoreSafe interior storefront shutters are often complemented with CounterSafe or ProductSafe products for ultimate high-value inventory or pharmaceutical protection.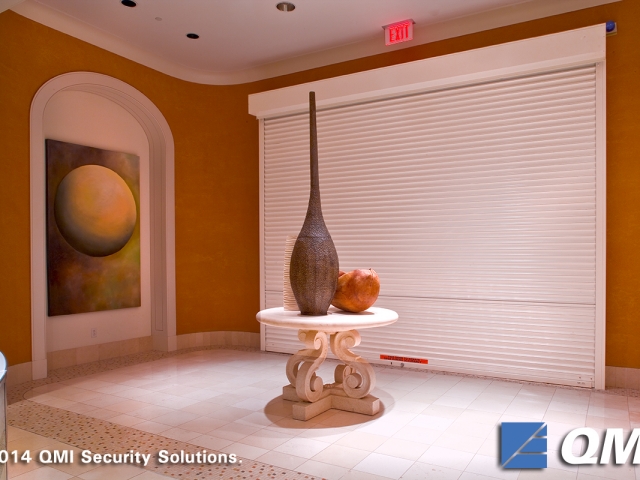 Solid & Aluminum Shutters
Strongest single-wall rollup shutter available
Reduce energy costs
Prevent break-ins
Protect against extreme weather
Hurricane-approved
Passed Large Missile Test
Helps prevent water damage
Smallest box housing available
Solid aluminum security shutters create a visual and physical security barrier to protect your business against intruders and extreme weather. When rolling shutters are in the closed position, they are virtually indestructible. When the store is open, the rolling shutters disappear into a color-matched box housing. Solid aluminum shutters reduce break-ins and virtually eliminate the threat of smash and grabs. Solid aluminum shutters also provide extra insulation, helping to reduce energy costs. The solid shutter design impedes water infiltration from hurricanes and strong storms, which reduces the occurrence of mold and mildew.
In addition to added security and weather protection, exterior-mounted rolling shutters are designed to help reduce energy costs. The StoreSafe AL7 and AL2-P slats are both approved for hurricane protection by the state of Florida, and the Texas Department of Insurance. The aluminum security shutters have passed the Small Missile Impact Test, where lead balls are blasted at the shutter. The shutters also passed the Large Missile Test, where a wooden 2×4 is shot at the shutter at 30mph. Watch the water infiltration video as the solid shutters are blasted by a fire hose.
 Vision Profile Security Shutters
Prevent break-ins
Enables nighttime visibility
Reduce theft
Control shrink
Eliminate "smash and grabs"
Allows window shopping
Five patterns to choose from
Easy to use manual pushup/pushdown
Electronic controls available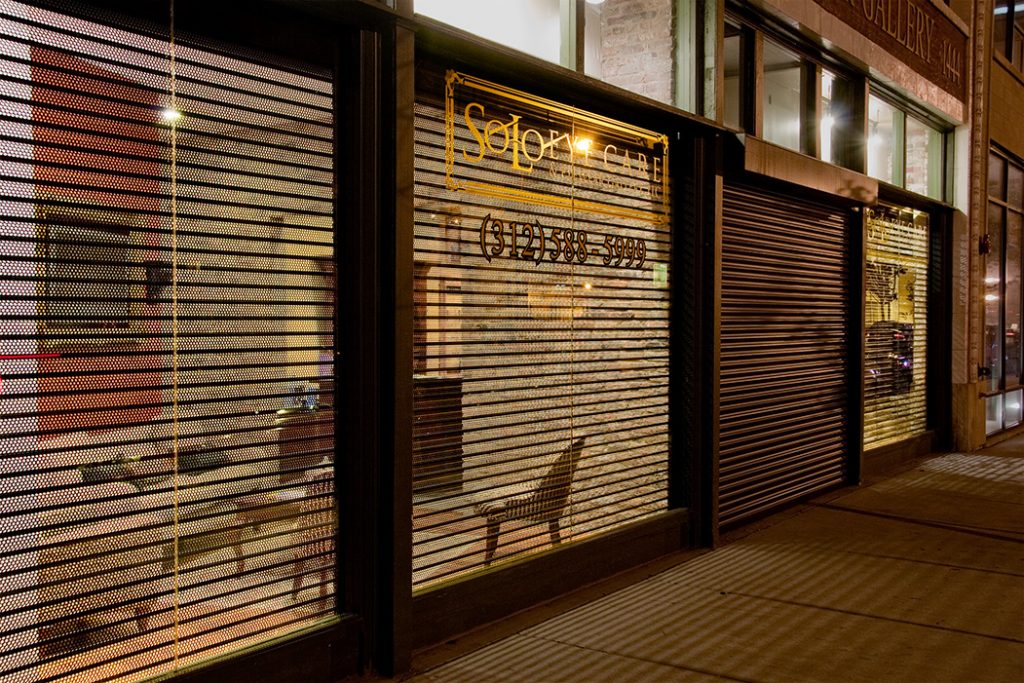 StoreSafe Vision aluminum shutters provide solid security with visibility. The Vision slat aluminum shutter is designed to allow potential customers the ability to view merchandise, while keeping burglars out. The extruded, single wall, AL7 slat profile offers perforations punched into 5 different patterns. The most popular pattern, the P51, is used to protect retail storefronts in the cell phone, pharmaceutical, electronic, convenience store, and jewelry industries.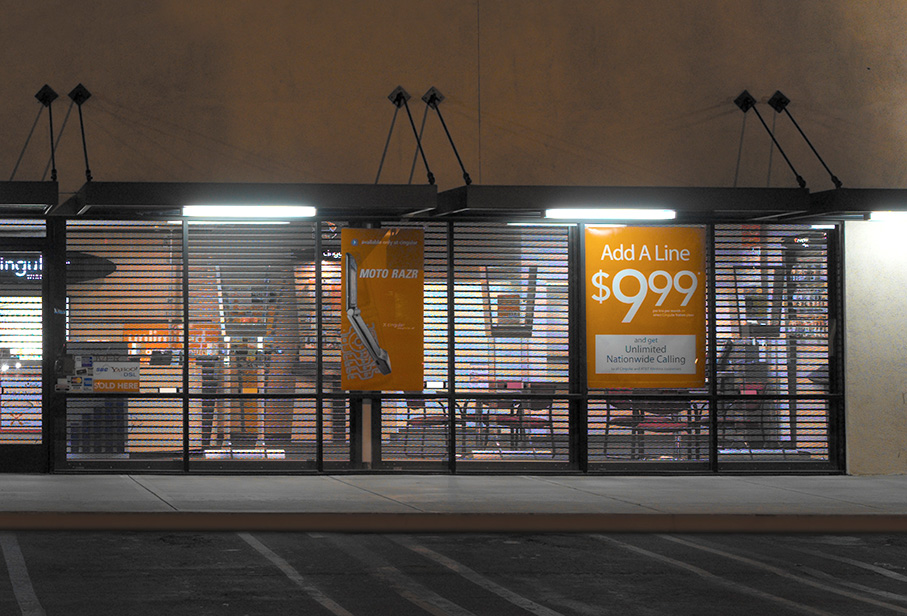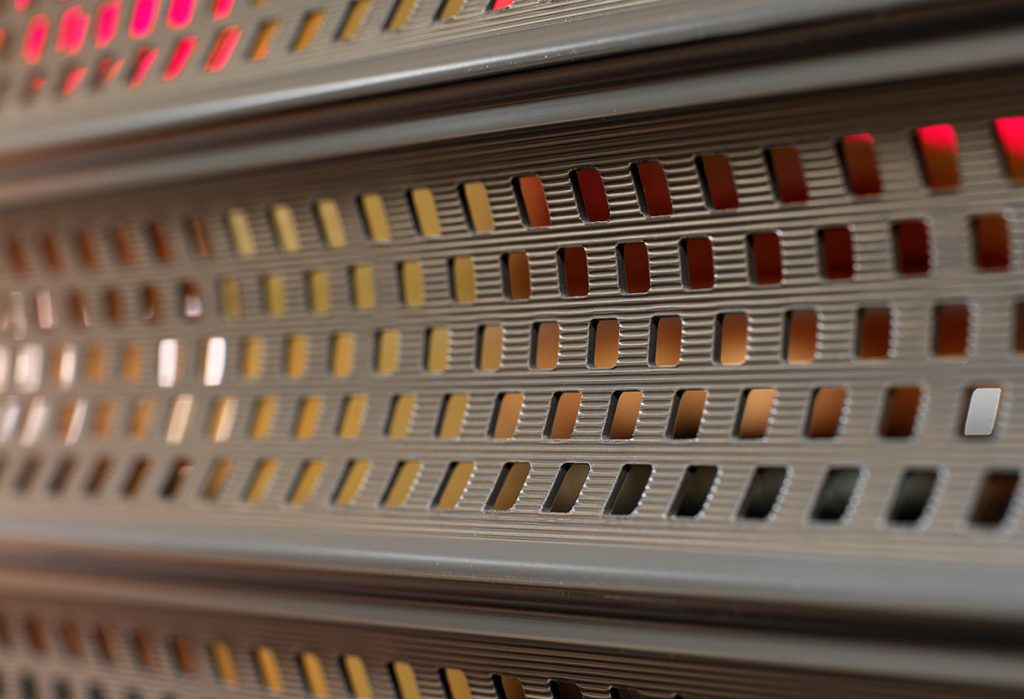 FAQ: Why are StoreSafe Vision slat aluminum shutters often installed on the interior? When security shutters are installed on the interior of a building, then burglars don't have time to bypass the shutter after the alarm goes off. Burglars can see that the store is well protected, and they will know that a "smash and grab" is not an option. Customers can still see the products inside the store at night when they pass by. Interior installation also keeps the shutters cleaner, and it keeps employees from having to go outside to shut and lock at the end of the night. In most cases, landlord approval is typically not required for inside mounting.
Transparoll Security Shutters
The ultimate in security
85% visibility
Reduce energy costs
Prevent break-ins
Protect against extreme weather
Smallest box housing available
Scratch resistant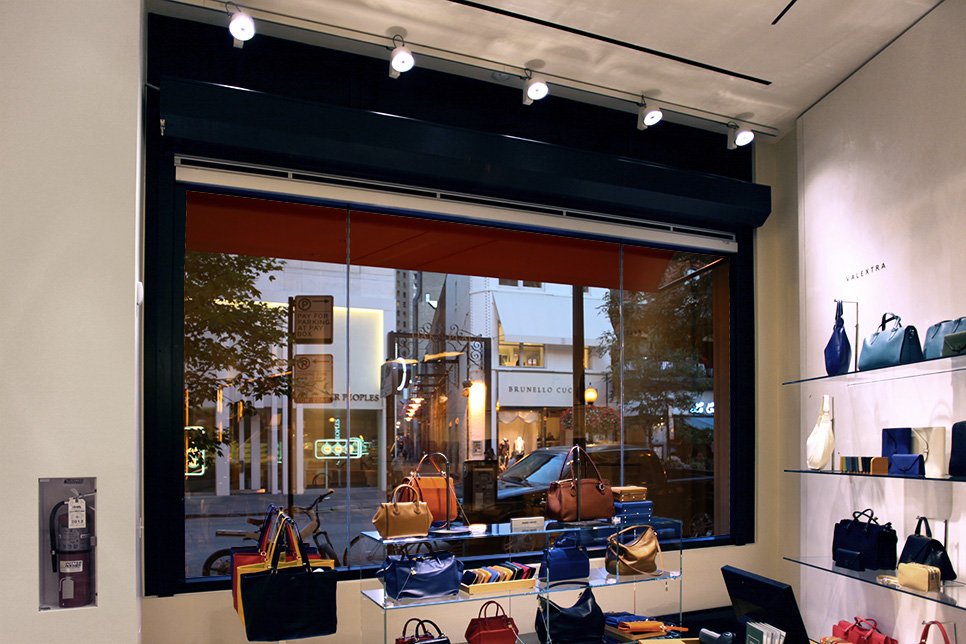 Premium. Elegant. Protection
Transparoll shutters are the premier security and partition shutters in the StoreSafe family. Transparoll is essentially a " glass" wall that allows for maximum visibility, protection, and elegance. The clear polycarbonate is 250 times stronger than glass of the same size. Transparoll shutters roll up into a subtle housing box when not in use. Transparoll shutters offer security without altering the aesthetic of the shopping environment. Perfect as a security partition or wall, Transparoll can be used for inside or outside applications. StoreSafe Transparoll shutters truly are the ultimate in security.
Transparoll security shutters prevent theft while providing 85% visibility. Transparoll shutters are covered in a scratch resistant coating, which also allows for graffiti to be removed easily. In addition, Transparoll is UV-resistant, preventing discoloration and ensuring the shutter maintains its clarity. The Transparoll shutter is made of 6mm thick polycarbonate, which has a smooth surface, leaving potential intruders with no grip. Transparoll is available in widths up to 26ft. in one piece. Transparoll shutters are installed using solid guides that cannot be broken.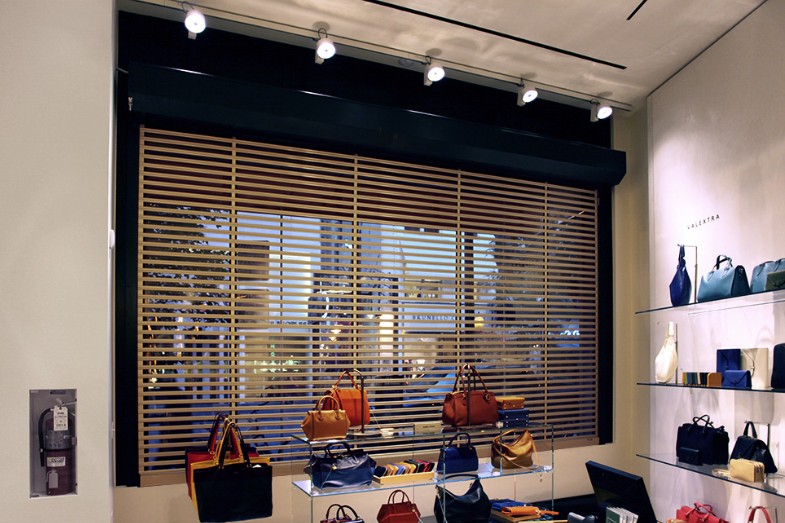 LX-6 Security Shutters
Anodized aluminum horizontal ribs
QMI standard 7 colors available for box housing, side rails, and bottom slat
Most sizes available with tubular motor operation-keeping box housing size smaller
Extremely high visibility
Also fabricated with clear polycarbonate pieces, the LX6 rolling shutter is a lighter weight and medium-duty shutter with excellent visibility. The LX6 is similar to the Transparoll, but with three foot width sections of polycarbonate joined with a vertical spacer to make up the full shutter width. The lighter weight of the LX6 allows for the push-up/pull-down manual operation on shutters up to 80 sq ft.
Call or Email us for an Estimate